Religious Education
At Cheadle Catholic we 'Go Forward in Faith, Following in the Footsteps of Jesus'. We aim to provide the very best Catholic education for our pupils. Cheadle Catholic is a learning community underpinned by a Catholic ethos based upon Gospel values. Through the general and prayer life of the school as well as Religious Education, we aim to celebrate the uniqueness of every child, enabling them to reach their potential spiritually, morally, academically and socially.
The Curriculum – Religious Education
We recognise that the school has a special part to play in helping parents to develop within the children a lasting faith commitment. Together we guide them to a meaningful relationship with God, the Father of creation, with Jesus, the Word of God, and with the Holy Spirit, who guides our every action. In school we do this in three main ways:
By creating an atmosphere which pervades the whole life of the school, where the unique value of each person is recognised and respected. The most powerful agent in this process is the example of Christian conduct given by all members of staff in their actions and words and in the relationships they foster.
By creating a structured liturgy appropriate to the age and ability of the children. In partnership with our parish priests opportunities are created for prayer and worship closely matching the liturgical calendar. School class masses, assemblies and services of reconciliation are all important elements in our liturgy.
By delivering a planned programme of Religious Education. We use 'The Way the Truth and the Life' scheme to provide the basis for teaching the doctrines of the Catholic Church. The children explore the religious dimensions of questions about life, dignity and purpose within the Catholic tradition. Links are made with the pupils' own experiences and with the other faith traditions
We proudly proclaim our faith and invite all to join us on our journey, but we welcome children and families of other faiths to our community, and we regularly learn about other faiths and cultures.
Children know and understand the 'big ideas' and RE lessons have clearly defined learning outcomes. We deliver The Way, The Truth and the Life RE Curriculum which systematically builds up their understanding over time and is designed not only to develop and grow our children's understanding of their faith but one which allows them to question and become independent thinkers and learners.
We assess throughout the topic completing both formative and summative assessments. This knowledge feeds into the teachers' medium and short term planning to ensure we tailor the RE curriculum to meet all the needs of our children.
'I can' statements are included at the start of every topic and Key driver words are used for each topic to inform planning and assessment.
As directed by the Diocese, children are formally assessed three times a year. Topics 1, 3 and 5 will be assessed in the 2023/24 academic year.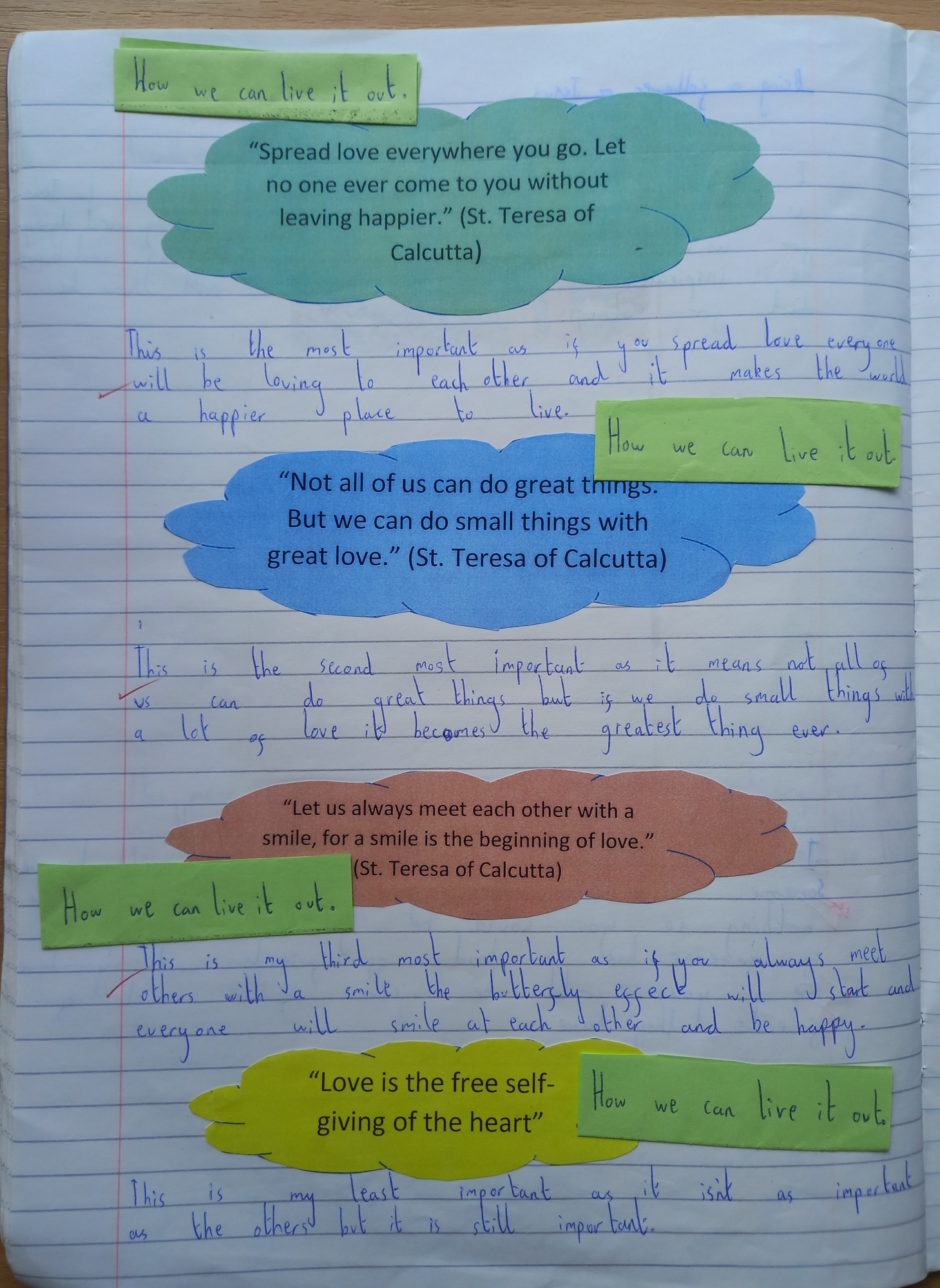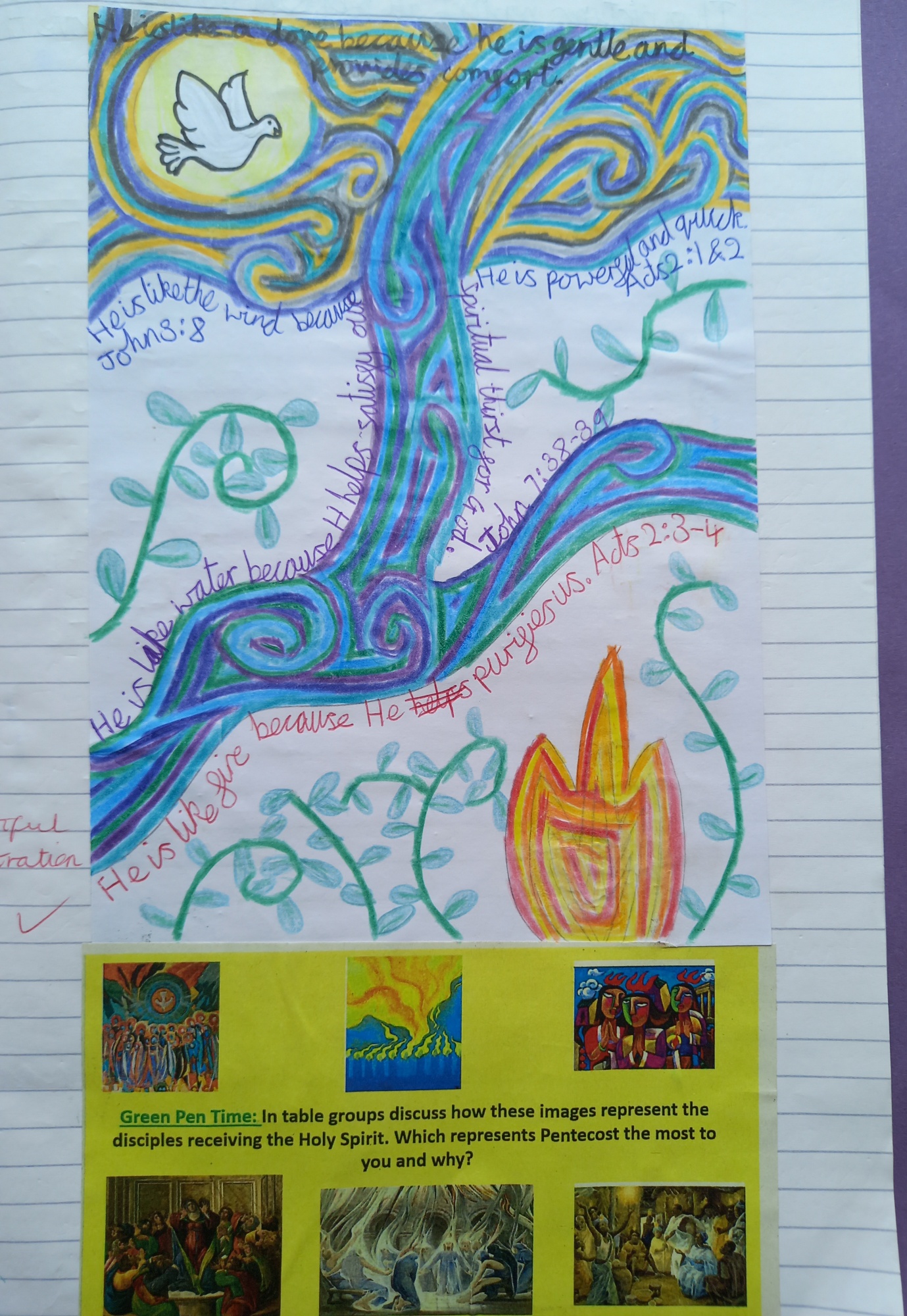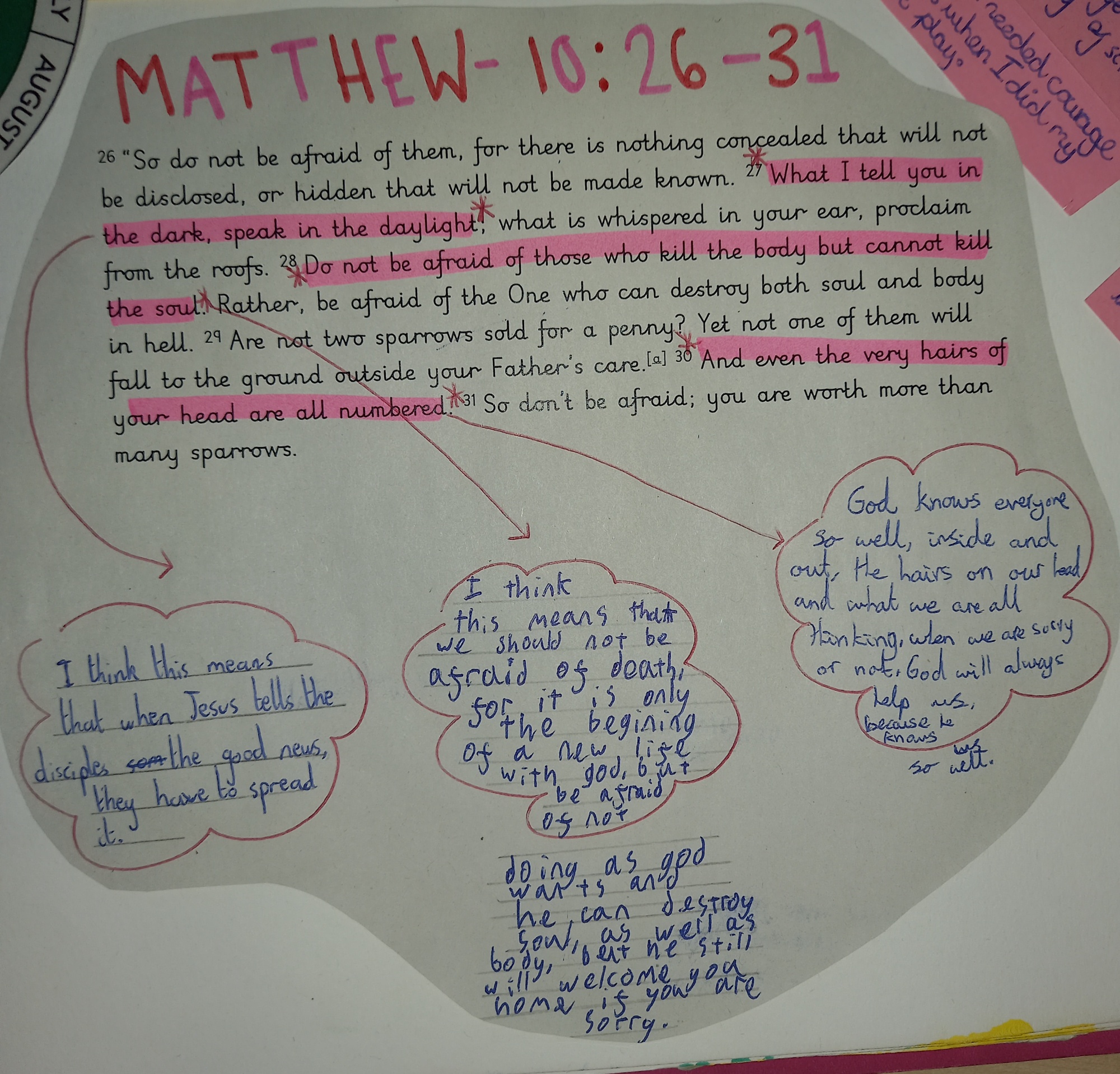 | | | | | |
| --- | --- | --- | --- | --- |
| Topics | Year 3 | Year 4 | Year 5 | Year 6 |
| Autumn 1 | The Christian family | The Bible | Gifts from God | The kingdom of God |
| Autumn 2 | Mary, our mother | Trust in God | The Commandments | Justice |
| Spring 1 | Called to change | Jesus, the teacher | Inspirational People | Jesus, the bread of life |
| Spring 2 | Eucharist | Jesus, the saviour | Reconciliation | Jesus, Son of God |
| Summer 1 | Celebrating Easter and Pentecost | The mission of the Church | Life in the risen Jesus | The work of the Apostles |
| Summer 2 | Being a Christian | Belonging to the Church | People of other faiths | Called to serve |
Our Relationships and Health Education (RHE) curriculum: /page/?title=Relationships+and+Health+Education&pid=89