Remote Learning
What should my child expect from immediate remote education in the first day or two of pupils being sent home?
In the event of a child having to stay at home (due to extreme weather, health and safety/ building issues or local/national restrictions), remote education will be provided through the use of their class SeeSaw app.
SeeSaw is a digital app-based platform that allows teachers and students to share learning. Feedback will be given during the school day to individual children as they complete their work.
There will be a number of ways for children to complete their work – photos, videos, uploading documents etc. Clear instructions will be posted by teachers on the SeeSaw app and we will offer flexible options for posting and submitting work, which will suit different households.
Following the first few days of remote education, will my child be taught broadly the same curriculum as they would if they were in school?
We aim to provide a home learning experience that matches, as much as possible, our school curriculum plans. The following information outlines our plans in individual subjects.
Maths
We will continue to follow a Mastery approach to Maths, following the White Rose scheme of work. These can be found at: https://whiterosemaths.com/resources/primary-resources/primary-sols/
The learning will be delivered through pre-recorded teacher-led explanations that aim to consolidate prior learning and scaffold new learning in a sequenced way.
Children will complete their work in White Rose workbooks (which will be given to the children at the beginning of the period of home learning). The activities will provide the opportunity to strengthen understanding and extend mathematical reasoning skills.
Mathematical fluency skills will be sharpened (on SeeSaw) through the weekly '75 club' (which tests children's rapid recall of mathematical calculations) and TimesTable Rockstars (an interactive online learning platform that enhances the rapid recall of mathematical calculations).
English
We will continue to follow our curriculum plans through pre-recorded, teacher-led videos and voice-over powerpoints and links to external resources, including DfE approved external resources.
Weekly spelling will continue with a pre-recorded teacher-led explanation of a different spelling pattern each week. This will be followed by a weekly spelling test.
The focus for each day will vary throughout the week and will include: grammar, punctuation, reading skills and writing ('Free-Write Friday' will continue during any period of remote learning).
PSHE, Science, Art, History, Geography, Music
We will continue to follow curriculum plans and our school scheme of work, delivered through teacher-led voice-over powerpoints and links to external resources, including links to DfE approved external sources.
P.E.
We will use a range of links to external resources, including DfE approved external resources.
Remote teaching and study time each day
How long can I expect work set by the school to take my child each day?
We expect that remote education (including independent work) will take pupils (approximately) 4 hours each day.
Accessing remote education
If a child does not have access to Remote Education
We recognise that some pupils may not have suitable online access at home. We take the following approaches to support those pupils to access remote education:
Laptops and ipads will be available to children (if required) and parents will be asked to be sign a loan agreement.
If pupils do not have internet access, school has a supply of SIM cards with data allowances, which would enable internet access. Also, we will offer a paper pack of printed material, which can be collected from the school office.
Children access our remote education via the Seesaw App
On the day before a remote education plan comes into operation, parents will receive a letter informing them of the closure of school to their child.
A proposed 'learning at home' timetable will be sent to parents via Seesaw.
An overview of daily tasks will be posted by 9.15am each morning.
Reading every day for 15-20 minutes will be part of all pupils remote learning programme.
For those pupils with identified SEND, differentiated activities will be set through the above class process: for individual pupils with an ECHP and who need more personalised learning tasks, these will be provided for by class teachers.
How will my child be taught remotely?
We use a combination of approaches to tailor our remote learning provision to meet the needs of our children. We have reflected on what works best for the children at our school and we continue to do so.
Some examples of our remote teaching approaches are:
live class assemblies and catch-ups on Zoom
pre-recorded explanation videos modelling areas of learning and addressing common misconceptions
voice-over presentations explaining and scaffolding key learning points
recorded teaching from external source (e.g. Oak National Academy lessons)
printed paper packs produced (including: White Rose workbooks, a variety of worksheets and activities)
reading books from school
Times Table Rock Stars
Engagement and feedback
What are your expectations for my child's engagement and the support that we as parents and carers should provide at home?
Ideally, we would like children to engage in their home learning as if they were at school. However, we recognise that our families have a variety of different home circumstances and we have tried to ensure that our provision addresses any challenges as much as possible. We expect our children to engage with our remote education provision on a daily basis (sticking to a daily timetable, where possible).
We understand that, due to work and other commitments, full engagement with home learning will not always be possible. We ask that parents contact us to let us know of any difficulties and we will endeavour to find a solution.
Teachers will offer a high level of support and feedback in a variety of ways. Feedback will be given for the majority of pieces of work – some pieces will receive more detailed feedback than others, and some work will be set, which will not require any feedback.
Children may find some of the work challenging and may ask for support from parents. If a child is finding a piece of work particularly challenging, we ask that you inform their class teacher (through SeeSaw) and they will be on hand to support.
How will you check whether my child is engaging with their work and how will I be informed if there are concerns?
Engagement will be checked daily by teachers monitoring submitted work and via our Zoom sessions and pastoral phone calls. If we are concerned about a child, we will contact parents/carers to discuss our concerns and we will aim to work together to find a positive outcome. If school is not able to make contact, we will follow our safeguarding procedures.
How will you assess my child's work and progress?
Teachers will be in contact with children on a daily basis via SeeSaw. Assessment and feedback will be ongoing as work is submitted by the children. It will take on a variety of forms (including individual feedback on specific questions within a piece of work and whole class feedback addressing common misconceptions).
Additional support for pupils with particular needs
How will you work with me to help my child who needs additional support from adults at home to access remote education?
Teachers will continue to set suitable learning challenges and respond to children's diverse learning needs. Teachers will take into account the requirements individual children may have and make provision accordingly thus enabling all children to participate effectively in curriculum and assessment activities.
Teachers may take the following approach to remote learning in the case of a prolonged period of school closure:
Provide specific tasks for children with SEND. The focus of some the resources sent home will link directly to any plans that are in place for particular children.
Providing practical and kinesthetic learning activities linked to specific areas of needs and targeted at the correct level for the child to understand.
Videos directing practical activities - these will be made by teachers and/or teaching assistants
Providing visual resources and prompts to support learning and independence
Provide sensory activities or visuals to support learning.
Therapists or specialist agencies who provide regular support and advice will be contacted and asked to make contact with the family.
Class teachers will liaise with families of EHCP children regularly to ensure that they are able to access the required resources for their child.
SENDCO will complete additional weekly check ins in addition to the feedback and engagement from the class teacher and teaching assistants.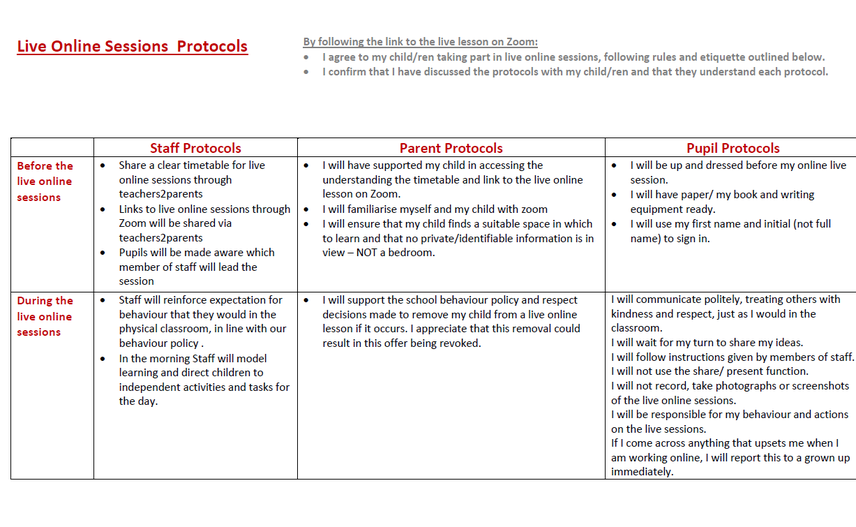 Useful links/ websites